Zoning and Code Enforcement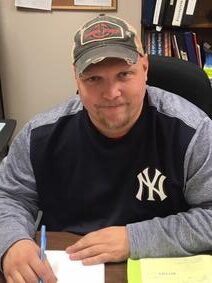 Tom Fulkrod, Code Enforcement Officer
1000 Route 14A, Penn Yan, NY 14527
Cell Phone: (315) 719-3232 ​
E-mail Questions to: [email protected]
Hours: Mon - Thurs 7 am - 8:30 am
and by appointment
The goal of this office is to provide assistance to the Town of Benton residents with their building, zoning and code enforcement issues. We have tried to provide common information on this website to help you in this process but please feel free to contact us with any questions.
For various forms (Planning Board, Zoning Board of Appeals, Building Permits, Permit Fees, etc.) please use the links to left.
WHO NEEDS A BUILDING PERMIT?
The State of New York and the Town of Benton requires permits for a variety of items. A few examples would be:
ew homes, additions, renovations on the interior or exterior of your structure, garages, decks, roofs.
Also included may be accessory structures such as barns, sheds, greenhouses, and fences.
Fireplaces, furnaces, boilers, hot water tanks, stoves (wood, pellet, corn, etc.) interior and exterior require a permit.
All pools and hot tubs over 2 feet in height.
All signs need a permit; businesses and business expansion may need a permit
If you have any questions on whether you need a building permit, contact the code enforcement at [email protected]. Building permits for all structures will require a site plan. New homes will require a stamped set of plans, as will some additions and renovations.
Special Use Permits, Area and Use Variances have specific requirements; please contact the Code Enforcement Department for this information.
The Town of Benton also has Sub-Division regulations in our zoning codes. Please contact our zoning officer for proper procedure if you are planning to sub-divide or split any properties. You should also be aware that NYS has limitations on subdivisions.
PROPERTY MAINTENANCE ISSUES
New York State and the Town of Benton have property maintenance laws, examples would be:
No more than 1 unregistered motor vehicle in good repair may be located on a property.
Exterior of property must be kept clean of junk, rubbish and debris.
Immediate exterior of property must be maintained, including the mowing of grasses and other vegetation.
Structures must be maintained in good repair and safe condition, or removed from the property
Zoning districts in the Town of Benton have different requirements. It would be very helpful to contact the building department early in the planning stages of a project in order to get information on setbacks and other land use requirements within the community. Depending on the type of approval needed, some applications may need to go through both the Planning Board and the Zoning Board of Appeals. Some projects, especially those involving special use permits within 500 feet of a County Roads, may also have to go to the County Planning Board. While we try to get applications addressed in a timely manner, going to Benton and Yates County Planning Boards and the ZBA can add more than a month to get necessary approvals.
The Town of Benton Zoning Codes are now on line. Click on the links below for appropriate sections: